About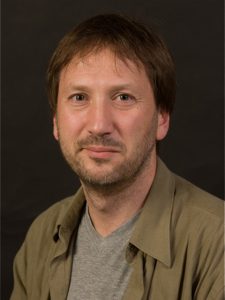 Michael Nitsche works as Associate Professor at the School of Literature, Media & Communication (LMC) at the Georgia Institute of Technology, where he teaches courses for the Digital Media M.S. and Ph.D. program, as well as for the Computational Media undergraduate program. He founded the Digital World & Image Group (DWIG), which is the home for his ongoing practice-based research projects. He is associated faculty to the Graphics & Visualization Unit (GVU) and member of the Georgia Tech Center for Music Technology (GTCMT).
Michael's research combines performance and craft to design new media and our interactions with them. His methodology is highly interdisciplinary and includes architectural, film studies, and performance studies approaches that are applied to digital media analysis, critique, and production.
Nitsche published his first book Video Game Spaces: Image, Play, and Structure in 3D Worlds, published in spring 2009 with The MIT Press and co-edited The Machinima Reader (with Henry Lowood, TBP spring 2011, MIT Press). He currently is co-editor of the Routledge/ Taylor & Francis journal Digital Creativity.His work has receive support from the NSF, NEH, as well as from companies including Alcatel-Lucent, Google, and Turner Broadcasting.
Featured work